Our Team
James F. Groff
I established Victorian Heritage Inc. in 1984 along with my wife, Doris Groff. Our vision was to restore and preserve historical structures and landmark buildings in our region.
My employment experience began in 1964 when I started working part-time for my father, Richard F. Groff. I went full-time in 1967 and began doing general masonry work. We worked on schools, hospitals, warehouses, parking garages and even mushroom houses. One day I had the opportunity to work on a historical building in Chester County, Pennsylvania and it was then that I felt my calling was to preserve and restore historical buildings through masonry.
In 1974 my brother and I established Kinzer Construction where we specialized in commercial and residential buildings. After working again on the restoration of a historical building, I knew then that was the direction I wanted to concentrate on so my wife and I developed Victorian Heritage Inc.
We take great pride in our work and our mission is to restore a building to its true original character with quality workmanship. By preserving the past it enables future generations to see and appreciate the workmanship of our forefathers. I'm proud to have 50+ years of extensive hands-on expertise in preserving historical treasures. Our team carefully investigates and studies historical buildings, provides consulting services, helps to locate and supply authentic historical materials, along with managing your project.
I not only have a love for restoring buildings, my passion also includes vintage autos. I built my first street rod in 1971 but I started drag racing in 1965. My family became involved with cars and racing in the 70's and it continues to this day. Besides restoring old buildings and cars, I am very active within my community. In 1978 I joined the Christiana Lions Club where I held many offices, including president for 3 terms, and chaired numerous community events including Christmas House Tours, Tour de Christiana and Soap Box Derby. Founder and president of the Christiana Clampett Foundation since 1993, I am also a board member of the James E. "Bing" Miller Charitable Foundation for Berks and Chester Counties. I have been a member of the Christiana Historical Society since 1991 and I oversee the documentation and survey of our Borough's historical buildings. In addition I have been a member of the Christiana Fire Company since 2004, serving as trustee and on the property committee. I am involved with assisting in the organization of community worship services, Masonic Demolay Advisor, Christiana Community Days, Lanchester Fiddlers Picnic, Civil War Encampment, and with Lions Club International Foundation working on disaster relief across the nation.
My wife Doris and I have been married for 49 years and we are the proud parents to 2 incredibly talented sons and have been blessed with 5 grandchildren and one great grandson.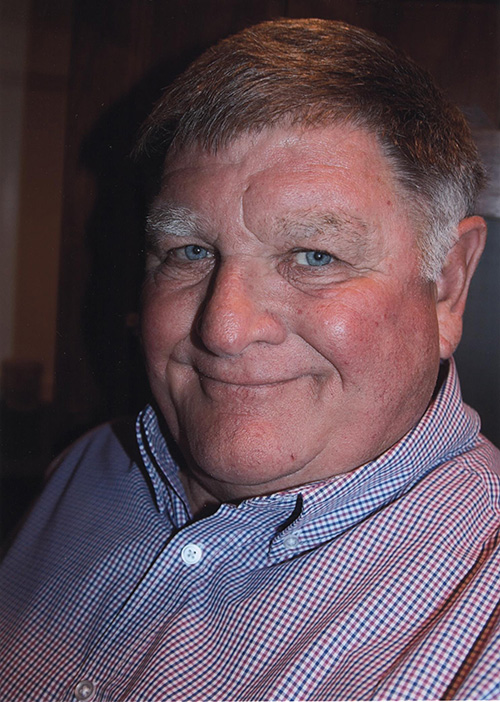 Doug Groff
Following tradition these days is almost unheard of anymore. I am a third generation stone mason in the Groff family. I have worked for our family business throughout high school and full-time since 1989. From hands-on experience, I worked my way up from stocking scaffolding to learning to lay stone from seasoned masons. I enjoy the restoration field that we specialize in because every day and every job is unique, different and challenging in its own way.
As you can see from our pictures throughout the years, we have had some incredible opportunities to let our skills and creativity show. We bring history back to life. What I believe sets our company apart from the others is we not only strive for perfection, we strive for excellence and authenticity.
When not at the job site, I spend most of my free time with my family. I am very fortunate that my family is very close. Unfortunately, my wife of 23 years recently passed away after an 8 month battle with lung cancer in 2015. Our two children, Bradley and Bailey, enjoy street rods and drag racing. My son started racing when he was eight and when he was old enough, Brad and I started taking turns racing our Super Pro dragster. Brad was blessed with a son in April of 2015, my grandson Carson. My daughter Bailey and I work on a Pro Mod drag racing team together. Bailey also enjoys singing, crafting and spending time with her friends.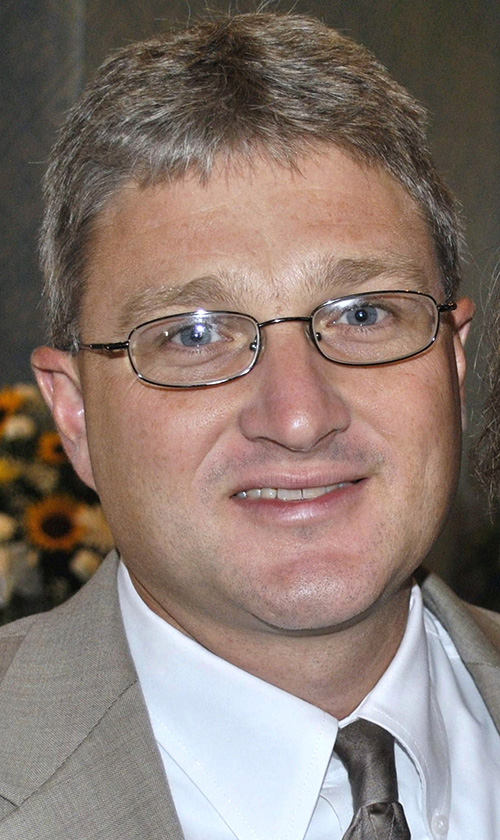 Richard Groff
Richard Franklin "Frank" Groff, born December 28, 1921, was one of nine boys in the Roy and Sarah Groff's family. In his teen years, Frank worked as a laborer in several neighboring farms. He then worked for the railroad helping to upgrade the railroad tracks along the Susquehanna River north to New York State so they could accommodate the heavier rail traffic throughout the north center region of Pennsylvania.
World War II started and in 1942 Frank joined the Army where he became a part of the elite 82nd Airborne paratroopers. His first battle was jumping behind enemy lines on June 6th, 1944 in what is known as D-Day. There he suffered a severe head wound and was not expected to live. Not fully recovered from his D-day wounds, in December, 1944, he jumped behind enemy lines with the 101st at the Battle of the Bulge where they were responsible for destroying a key bridge.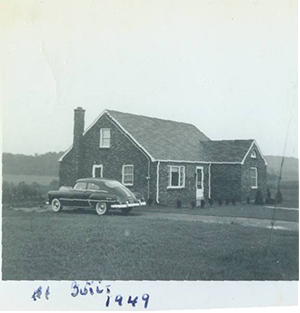 First building built by Frank Groff in 1949
When Frank returned from the war he married Betty Jean Hossler and returned to Lancaster County settling in the Christiana area. He found work as a mason laying bricks, blocks and field stone to build houses. Frank started his own company, R.F. Groff, Inc., in the early 1950's and quickly expanded to construct school buildings, manufacturing facilities, churches, parking garages and commercial buildings.
By 1956, he built the Octorara Area High School with the complex curved walls and the beautiful arch found in the auditorium - an incredible piece of workmanship and extremely unique design.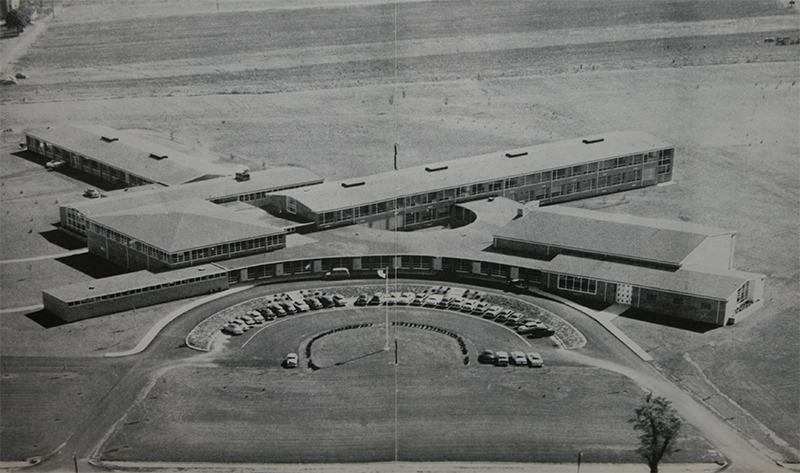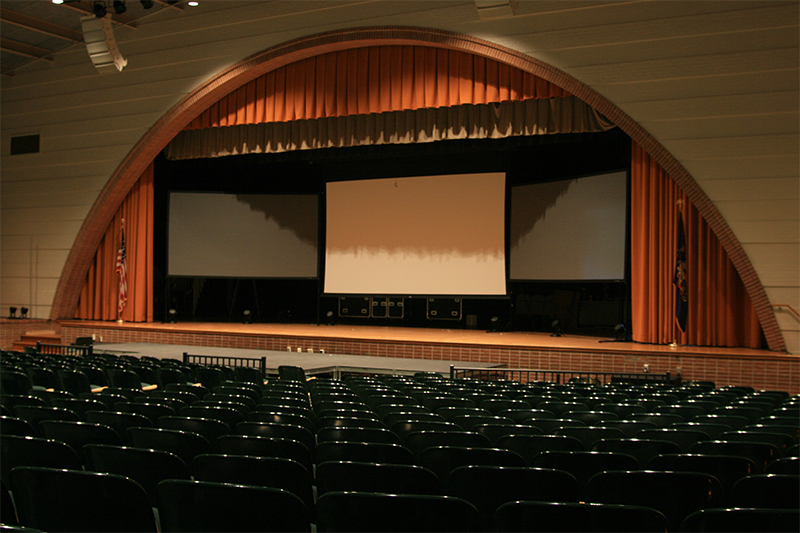 Throughout the 60's, he grew the company to over 350 employees and was awarded contracts throughout Pennsylvania, New York, Maryland and Washington DC. R. F Groff Inc. was one of the largest masonry contractors in the state of Pennsylvania. Some projects of note include the Sam Reyburn Parking Garage in DC, Peach Bottom Nuclear Power Facility in Delta, PA, Osteopathic Hospital in Lancaster, PA, the Reading Planetarium, Kellogg's Manufacturing Facility, and dormitories located on the West Chester University, Mansfield University, Bucknell University and Dickinson College campuses. Frank proudly taught his three sons, Jim, Dale and Tom, the masonry and construction trade.
R.F. Groff Inc. closed when Frank retired in the late 1970's.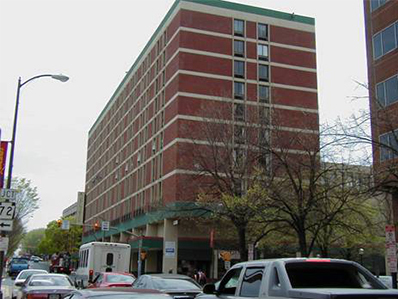 Brunswick Hotel, Lancaster, PA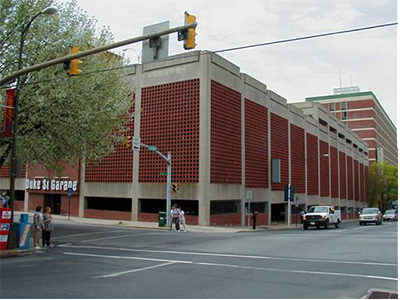 Duke street Parking Garage, Lancaster, PA